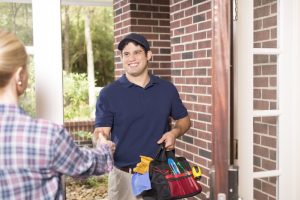 Many heating and cooling companies boast their good qualities—but what's more important is that they actually deliver on those promises. When you're in need of an HVAC contractor for furnace repair or any other type of HVAC service, you want one you can trust. How do you know if you've found the right heating technician, though?
They Have a Physical Address
With very few exceptions, pretty much any stable and established for-profit company is going to have a physical base of operation. Not having this physical office indicates that something suspicious may be going on with the business, and you could quickly find yourself facing a scam.
You can avoid this scenario by doing your homework—be sure to research HVAC companies, particularly the one you end up choosing a heating repair technician from. It's pretty simple to use a program like Google Maps to find a business and see if there is, in fact, office space at that particular address. If you're concerned that your chosen HVAC company is not legitimate, you can also check out the Better Business Bureau site to confirm.
They Have Proper Licensing
Since HVAC repair and installations are complex projects, and potentially even dangerous if we're dealing with any work on the gas lines, your technician must have the proper knowledge and licensing to do their job.
Similarly, the employees with the company you choose must be registered with the state where your HVAC contractor is based, and keep their license and related paperwork up to date. Before you hire a heating repair technician, it's a good idea to check on the status of their licenses, which will tell you if they are in good standing with the state and that they complete their professional duties in a timely manner.
They Present Themselves Professionally
When it comes to service technicians, you may have an image in your mind of a particular look. The truth is, though, even though service professionals do deal with messy parts of your HVAC system, they should still present themselves as professionally as possible.
We're of course not talking about showing up in a suit and tie, but they should have a company uniform, and they should behave with respect and courtesy. This is especially true since HVAC contractors are community and customer-oriented.
They Are Prompt
In the best case scenario, the HVAC company you choose will offer 24/7 emergency service. After all, have you ever heard of an HVAC problem that happened at a convenient time? Even if your situation isn't an emergency, you should still expect your heating repair technician to show up on time and be as efficient as possible with the service you need, whether it is repair, replacement, or even maintenance.
HVAC businesses, or really any businesses, should always value and earn your trust. One way we do this is by remaining courteous and always coming to complete the job on time.
At Dalton Plumbing, Heating, Cooling, Electric and Fireplaces, Inc., your comfort is our promise! To set up an appointment, give us a call at the number above, email customerservice@daltonphc.com or schedule an appointment online.