How to Make Your Home Energy Efficient this Spring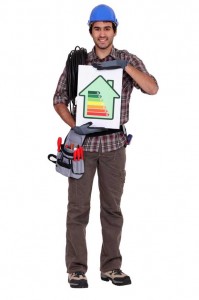 While many people have moved towards green sustainable living for the environmental benefits that it brings, there is a real gain for homeowners financially as well.
Going green means reducing the amount of energy that you consume and saving money as a result. There are many ways to have your home be more energy efficient and, there is no way to start like the spring. This article will provide some tips for making your home more energy efficient.
Have Your HVAC System Inspected
Your heating, ventilation and air conditioning (HVAC) system is likely the biggest drain on your home energy usage during the summer.
Start by having your HVAC inspected by a licensed plumber who can help to see how efficiently it is designed as well as if there are any pending issues with the system that can be resolved to help make your home more energy efficient.
Sometimes easy fixes can make a big difference while other times more significant changes are needed. Simple fixes can be as easy as having new filters installed or having the space around an outside air pump cleared of foliage, while more significant changes can involve a redesign of your system or cleaning clogged or damaged air tubes. Only a trained HVAC plumber would know the best course of action for your home.
Have a Plumber Review Your System for Leaks
Sometimes efficiency in your home can be undermined by leaks in your plumbing system. A small leak can lead to big damage to your home and also take a bite out of your efficiency rating.
Having a licensed and experienced plumber visit your home to inspect and search for leaks can make a big difference on the overall energy efficiency of your home.
Consider Other Energy Efficient Changes
Energy efficiency changes can come by having a plumbing specialist install newer and more energy efficient thermostats in your home that allow you to regulate the temperature of your home in a more effective way.
Alternatively, other fixes such as more energy efficient windows or house fans can be recommended. The exact recommendations will depend on your home setup and location. Contact a plumber to see what recommendations they have for you.
Spring time is the time for implementing new changes in your life as it is the season of renewal. Use a professional to find the right decisions for your needs and start saving with greater efficiency this coming year.
Interested in going green? Call Dalton Plumbing, Heating & Cooling at (319) 266-3513 to make your Cedar Falls home more energy efficient today.