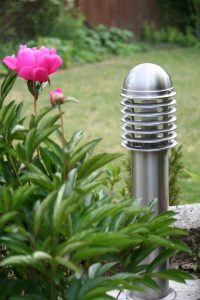 As the snow melts and springtime temperatures start warming up, many homeowners start thinking about the outdoors—including projects they want to complete outdoors. Oftentimes this includes upgrading their outdoor landscaping and lighting. Whether you'd like more lighting in order to entertain or even just to enjoy eating dinner outside with your family, there's never a bad reason to desire great outdoor lighting.
But to truly get great outdoor lighting, you want to make sure you work with professional Waterloo electricians, which will help you avoid a number of potential problems, such as what we've outlined below.
Consider Home Safety
Think about the walkways that lead up to your home. Are they well lit? If so, there's no need to worry about elderly family members or guests, other otherwise compromised visitors, tripping on your property because they couldn't see where they were stepping
Zoning your outdoor lighting in the right places will help brighten up areas of your hard and landscaping where you can entertain or at least spend a lot of time when you have guests over. You may consider outdoor lighting installation in areas like your patio, deck, garden, pool area, or even outdoor seating areas.
Take Care with Home Security
We mentioned safety above, in relation to having visitors in and around your home. But we also want to recommend getting the right outdoor lighting setup to keep burglars at bay.
It's first important that you have an alarm system installed. There are other steps you can take with your lighting, though, to fend off potential intruders.
The thing is, a well-lit property is much less likely to be robbed than one that's dark and inconspicuous at night. If you have lights on, a burglar will often assume someone is home and they are more likely to be caught, even if it's by neighbors or passerby. Additionally, no thief wants to draw attention to what they're doing by breaking into a home with lights everywhere!
Improve Your Comfort
The right outdoor lighting setup can create an illusion of a larger space. This is mostly true indoors but can apply to outdoor settings, as well. For example, if you have a deck or patio with seating on a balcony, then outdoor lighting can be utilized to visually extend the area, and brighten up the space.
Highlight Your Yard and Lawn Décor
Many homeowners lately are getting uplights installed around their landscaping. Implementing this lighting technique in the right spots can pull the eyes to those areas you want to highlight. You might even consider things like "mood" lighting along the exterior of your home, and low voltage lighting to highlight planters.
Whatever you have envisioned for your outdoor lighting, our team is here to help. We'll not only be able to assist you in deciding what kind of lighting you want, but in having it installed safely and effectively.
At Dalton Plumbing, Heating, Cooling, Electric and Fireplaces, Inc., your comfort is our promise! To set up an appointment, give us a call at the number above, email customerservice@daltonphc.com or schedule an appointment online.