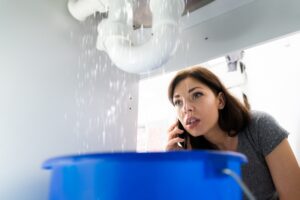 Our professional plumbers have been in the trade for a long time, and we have seen what can happen when you have the wrong home services "professional" in your home, whether it be for your HVAC, electrical, or plumbing needs.
Plumbing, especially, can be quite complex, and even something as seemingly simple as unclogging a drain can bring up unexpected surprises that you'll only want a trained professional to manage (trust us). Still, we understand the temptation to hire a general handyperson, or to even take the offer to help from a friendly neighbor.
We can't stress, though, how important it is that you choose a licensed and insured plumbing contractor when you need any kind of work on your pipes or plumbing appliances. You may think you're saving money but in the long run, hiring the wrong person for the job can cost you more.
What It Means to be a Licensed Plumber
A state plumbing contractor license is required for most plumbing jobs you'd need to call for. This is true in many states, and we are no exception. In other words, only licensed plumbers should advertise within the trade—though it's easy for most homeowners to believe that a general handyman is just as qualified.
What's important to remember is that to be a licensed plumber, we have to have the experience and ongoing training to back that license up.
What It Means to be an Insured Plumber
Licensed plumbers are also required to be insured to work in homes in our area. Generally speaking, licensure requires, at the very minimum, a general liability insurance policy for plumbing contractors. This helps protect you—the homeowner or customer—in case any damage occurs on your property from the work we do on your plumbing.
You can and should ask any plumbing contractor you hire for proof of licensing and insurance before they start work in your home.
The Training Professional Plumbers Go Through
Professional plumbers go through extensive training in order to complete their jobs thoroughly and effectively. Under the watchful eye of an experienced team, they learn the ropes, including how to properly diagnose and repair plumbing problems that are specific to your area.
Why You Shouldn't Forgo Professional Work
You might still be tempted to choose a general handyman for your plumbing needs. Perhaps the price seems right, or maybe you just want someone who can get to your home quickly. We understand, but here's what can go wrong:
They may choose the wrong tool to fix a leak or clear a drain, and cause more damage to your plumbing.
They might not have the right equipment to properly diagnose your plumbing problem, meaning it won't get properly fixed.
Your plumbing installation may be incomplete or shoddy.
Your plumber might not know local building codes.
You may have to pay to repair mistakes that an amateur handyman made.
This is one of those things that's simply not worth the risk. You'll be glad you called when you contact our team and get in touch with our insured and licensed plumbers!
At Dalton Plumbing, Heating, Cooling, Electric and Fireplaces, Inc., your comfort is our promise! To set up an appointment with a plumber in Cedar Rapids, IA, give us a call at the number above, email customerservice@daltonphc.com or schedule an appointment online.