Ideal Thermostat Settings for Every Season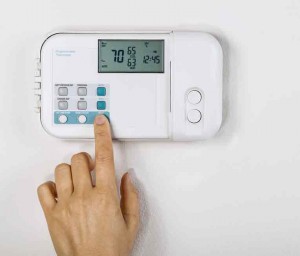 Correctly setting your thermostat each season can help you to reduce your energy costs and help to preserve the natural resources of the planet too.
Even adjusting the thermostat a few degrees can result in you saving hundreds of dollars each season in your heating and cooling bills. Here are some recommendations for the ideal settings for your thermostat for any season.
Thermostat Settings for Winter
During the cold winter months, the tendency in the home is to raise the thermostat as high as possible to heat all the rooms in the house.
The first hiring that you need is to call a local plumbing repair company and have them install a programmable thermostat if you do not have one already.
They can help you with the setting and programming if you are not familiar with this process. Set the thermostat at 68 degrees during the day. That will keep the chill out of the air. During the night when you are under your blankets, the thermostat should be a few degrees cooler. If it feels too cold, add another blanket on the bed.
Thermostat Settings for Summer
The summer months bring extreme heat, and your cooling system will be working overtime to keep the house cool. Set the thermostat in the day to no lower than 78 degrees. To help reduce the strain on the cooling system, keep curtains and blinds closed during the day where direct sunlight can get in the home.
Turn on ceiling fans instead to circulate the air around the rooms and give the impression on the skin that the moving air is actually cooler than it is. During the night, when the humidity drops, you can raise the temperature a few degrees and turn on a fan instead to save energy.
Thermostat Settings for Spring/Fall
In the spring and fall, chances are your system will only run on extreme cold or hot days. Keep the thermostat on during these months, and adjust the settings accordingly.
If it is a unseasonably cold day, set the heat at 68 degrees. On warm and muggy days, raise the thermostat cool setting to 78 degrees.
The system will not be running for days on end during these seasons, so accompanied by a fan should keep the indoor temperature quite comfortable for you, especially when you are about to go to bed for the evening.
Trying to figure out the best thermostat setting for your Waterloo home? Call Dalton Plumbing, Heating & Cooling at (319) 266-3513, and we'll be happy to assist you.