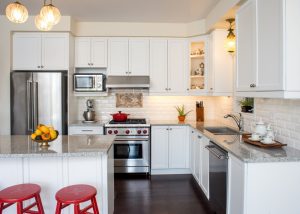 Across the country, homeowners are placing higher demands on their homes' electrical systems than ever before. We're adding high-efficiency electrical appliances such as HVAC system, hooking up new devices, and purchasing extra equipment for our existing electronics.
There are a number of Waterloo, IA electrical services you can invest in, including upgrades. In addition to ensuring that your electrical system can handle the demand you're placing on it, it's only natural that you'd also like to know how you can maintain or improve the visual appeal of your home while also making functional electrical additions. We have a few suggestions of how to do so.
Look to Your Kitchen Lighting
There are kitchen lighting options that can help add visual depth as well as task efficiency to this most-used area of your home—such as under-cabinet lighting. This is perfect for cabinets that are installed above your kitchen counters, and can really increase the visual appeal of your space.
In addition, the installation of this lighting is fairly easy, and something that our professional technicians will have no problem completing accurately and quickly. Under-cabinet lighting also offers a safety benefit—when you can see what you're doing more easily, you're less likely to have an accident.
Consider Ceiling Fans
If you don't already have ceiling fans installed in your home, this is a great item to invest in. Not only can you find ceiling fans that are visually appealing, but they can help your air conditioner work more efficiently, reducing your energy bills and decreasing the opportunity for cooling system wear and tear.
Fans don't lower the temperature of the space they're in, however they help to more evenly distribute the cooled air coming from your AC. You can also revers the direction of the blades during the winter, and it can do the same for your heater.
Recessed Lighting Benefits
Recessed lighting is a great way to use lighting in order to accentuate certain parts of your home, without adding an obstructive lighting fixture. IN addition, recessed lighting creates an illusion of more space within a room. It generally gives off a fairly subtle glow, too.
This form of lighting can be adjusted to offer a pleasant ambient environment, or even spot lighting if you have certain areas in your home that you would like highlighted. These lights also work very efficiently and are versatile in that you can have them installed pretty much anywhere within your home.
Don't Forget About Your Electrical Panel
As we stated above, you do want to make sure that your electrical system can handle the demand that any additions will place on it. In fact, you may find it necessary to upgrade your electrical panel—and actually this might even be legally required before you make electrical update to your home, since older electrical panels no longer adhere to modern statutes and building codes.
The primary benefit of upgrading your electrical panel is increased safety. Old or worn out service panels have the ability to cause a circuit overload, which can short out your electricity, and potentially cause a fire.
Contact Dalton Plumbing, Heating & Cooling, Inc. today for professional electrical services. Your comfort is our promise!