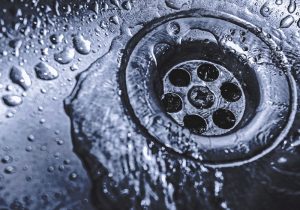 When you're searching for a solution for clogged drains in your home, the simplest answer is to buy a jug of chemical drain cleaner from the store down the street. After all, these are marketed towards homeowners and renters looking to quickly clear up a drain that has slowed or stopped, particularly a bathroom drain that could be stopped up with hair or soap scum. But any professional plumber with experience in drain cleaning in Evansdale, IA is going to advise against this.
Chemical drain cleaning solutions are simply not the best solution for your clogged drains. In fact, they're not a solution at all! We think some other products and services are a much better fit, but why?
Because Chemical Solutions Only Dissolve Some Clogs
This is the first thing you should know—the chemicals in these drain cleaning "solutions" are only formulated to dissolve some, but not all, common sources of drain clogs. For instance, most are good at dissolving some hair, but not all can handle excessive food and grime, food particles, and other blockages like excessive limescale buildup.
The Problem Can Grow Worse
Some of the particles that the chemical drain cleaners can't break up might only get pushed further along the drain line. This is one way you could end up with a clog deeper in your sewer line, impacting your entire plumbing system rather than just the single drain that was previously the problem.
Chemical Drain Cleaners Have Side Effects
Other than the fact that they might not even resolve your drain clogging issues, chemical store-bought drain cleaners have other side effects too. First, they're very toxic to humans and pets. They can cause injury to the skin and eyes (which is why it's essential to keep them out of the reach of small kids or pets) and they can actually damage the lining of your pipes. This can lead to the premature replacement of a portion of your plumbing system.
Choose Drain Cleaning Methods That Are Safer For Your Home and Family
There are natural ways to clean out very small and basic clogs in your kitchen or bathroom sink without the use of chemical cleaners. For instance, you can mix a bit of baking soda and vinegar to put down the drain. Or, if the clog is more stubborn than that, you can call our pros and we'll put the right equipment to use to relieve your plumbing system of whatever is clogging it up.
Our Pros Have the Right Tools for the Job
For the toughest of drain clog problems, liquid and chemicals just won't do the trick. You might need a high-pressure hose to clear out the drains. This is known as a hydro-jet, and should only ever be used by a professional, for your safety and the protection of your property.
At Dalton Plumbing, Heating, Cooling, Electric and Fireplaces, Inc., your comfort is our promise! To set up an appointment, give us a call at the number above, email customerservice@daltonphc.com or schedule an appointment online.