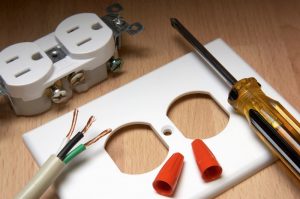 With springtime here and the subsequent warmer weather following, many homeowners are considering renovation and remodeling projects for 2017. There are many household projects that make great "do-it-yourself" endeavors, however, we of course highly recommend against this if any electrical work is involved. One of the biggest home construction hazards that homeowners face is electrical accidents or problems.
Before you start your home remodel or renovation project, it's essential that you review the safety precautions you should take, and understand the important electrical considerations to be made before and during the project. And when it comes to handling the electrical aspect of the job, contact the Waverly, IA electrical service experts on our team.
Important Electrical Considerations to Make
There are a number of factors to consider before beginning your home remodel. Fortunately, you have our team on your side to help you with each of these factors.
Consider any electrical outlets, wiring, or fixtures that will need to be installed. It will need to be determined where these components will be positioned. Planning this requires a room-by-room inspection, and an understanding of any electrical system upgrades you may need to accommodate.
Think about your existing electrical panel. Is it struggling? If you notice flickering lights around your home, have frequently tripped breakers, and/or have ever noticed charring within your electrical panel (which is a sign that an electrical fire already occurred), then chances are you need to upgrade the system anyway as a safety precaution. This is especially true if you plan on adding any more equipment, lighting, or high-efficiency appliances to your home.
Will you be adding an advanced entertainment system to your home? With advanced electrical systems come advanced electrical requirements. Be sure to discuss this with a professional electrician since you might need specialized wiring and electrical design in order to accommodate your remodel or renovation project.
Consider your home's efficiency. If you are concerned about the continually increasing cost of electricity, you are not alone. There are solutions to energy waste through electricity, such as lights on timers, the use of energy-efficient LED lighting, and efficient electrical control systems. This will very likely impact how you design your home, and therefore is an important factor to consider before your remodel begins.
Know Your Limits
We don't doubt that there are many do-it-yourself projects you can tackle in your home with ease. But electrical work is really just one job we don't recommend attempting on your own, mostly due to the potential safety hazards.
Another factor to consider in regards to electrical work during a remodel is that it actually costs most homeowners less than they expect to hire professionals rather that attempting a project like this on their own. Additionally, professional electricians are up to date and knowledgeable about building codes, so you won't have to worry about doing something that might not be permitted by your city or community.
Your comfort is our promise! Contact Dalton Plumbing, Heating & Cooling, Inc. for all of your electrical needs.