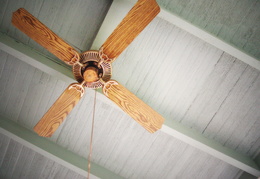 Temperatures may still be relatively mild for now, but with summer officially here, it's only a matter of time that we begin using our air conditioners on a daily basis. When this happens, it's only natural that you want to find a way to cool your home as effectively and efficiently as possible, and keep your cooling costs down.
The good news is that you don't have to try to use your air conditioner less just to save money—there's no reason for you to sacrifice your comfort just to save a few bucks. You may be surprised by how much one simple electrical addition to your home can help with this. That's right, we're talking about a Cedar Falls, IA ceiling fan installation.
"I Didn't Think Ceiling Fans Could Effectively Cool My Home"
If you've found yourself saying this, you're only partly right. It's true that ceiling fans will not lower the temperature of your home. However, the way a ceiling fan works to move and distribute air, it can help you feel cooler in whatever room you're utilizing it in, particularly when combined with your air conditioner.
Your air conditioning system has a lot going for it—it houses refrigerant to transfer heat from the inside air to outside, an indoor coil to absorb heat and cool down, and a compress to add pressure to the refrigerant that allows the entire cooling process to work. Ceiling fans are a lot less complicated, and true—cannot be expected to keep you comfortable all on their own during the long, hot summer months. But, keep reading to discover how they do help.
Ceiling Fans and Your Energy Bills
As we said, on their own, ceiling fans cannot cool down your entire home. But they can help you save money on your air conditioning by doing an effective job of evenly distributing the air coming from your cooling system. While a stagnant vent on a wall may not move air through your living space as effectively as you may like it too, ceiling fans can help with this process.
They work by pushing cool air down and circulating it through the rooms in which they are placed. This cools those rooms faster, which means that your air conditioner can shut off sooner, and/or you don't need to set your thermostat as low as you might otherwise—lowering your monthly bills!
You've probably realized that you feel cooler standing below or in front of a fan. This isn't because it's cooling the air, but rather it's because fans help sweat to evaporate from our bodies easily. This could decrease your dependency on your air conditioner and require less use from the system, and therefore more energy and cost savings.
Ceiling Fans Aren't Just for Summer!
That's right—ceiling fans have heating benefits too. We know that's the last thing on your mind as we progress into summer, but it's good to remember this for when winter comes back around. Ceiling fans help increase your heating system efficiency in the cooler months the same way they help your air conditioner now.
This is possible by flipping a switch near the center of your fan, which reverses the direction of the blades, so that the ceiling fan pushes warm air down and evenly distributes the warmth coming from your heating system. So, your heater won't have to work as hard as it would otherwise to do its job.
At Dalton Plumbing, Heating, Cooling, Electric and Fireplaces, Inc., your comfort is our promise! To set up an appointment, give us a call at the number above, email customerservice@daltonphc.com or
schedule an appointment online.