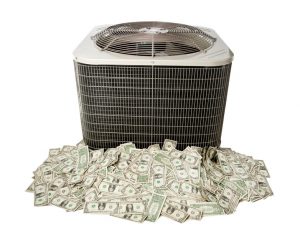 There's a cost to damaged ductwork.
"Well, yes, if my ductwork is damaged, I'll eventually need to pay to have it repaired, right?" you may be thinking.
That's not the only factor we're talking about though. When we say there's a cost to damaged ductwork, we mean that it causes you to lose conditioned air. And the bigger problem is that you don't always know when your air ducts are damaged. They might have loose joints due to poor installation, or they may have tears in them due to old age or being exposed to extreme heat in your attic.
Of course, there are a number of benefits to using central air conditioning and heating, and duct repair and sealing are available services. But, what if you never had to worry about this type of Waterloo, IA air conditioning repair ever again?
It's Possible, with a Ductless System!
As the name implies, a ductless air conditioning and heating system requires no ductwork. Instead, it is comprised of a single outdoor unit that is connected to multiple indoor air handlers via conduits containing the power source and refrigerant that allows the HVAC system to function.
An immediate benefit of using this system, as we mentioned above, is that you no longer have to worry about the potential energy loss brought on by ducted systems. Breached ductwork can account for as much as 30% of air loss. That means you're paying that much more for your cooling bills, without the comfort that should come along with it.
The lack of ductwork also reduces your family's exposure to allergens that can make their way through your home. When not in use, your ductwork collects a good amount of dust, dander, lint, and more—so when the blower fan does come on, that air pollution gets blasted into your home. There are indoor air quality products that can help, but for severe allergy sufferers, ductless can absolutely be the way to go.
Additional Benefits of Ductless Cooling and Heating
Ductless systems operate on heat pump technology. That means not only can they be used for effective cooling in the summer, but also efficient heating in the winter. These year-round systems bring a lot of benefits with them, not just the elimination of ducts. This includes:
If you are adding rooms to your home. Perhaps you have a perfectly find central air conditioner. But if you are doing a home remodel and adding a room or two, you might not want to go through the trouble of retrofitting new ductwork with the system. A ductless system could be your answer!
If you prefer zoned cooling and heating. Surely, different people in your home have different cooling and heating preferences. Ductless air handlers allow for zoned air conditioning and heating, since they can each be independently controlled from one another. This is also a great benefit if you have a multi-leveled home that suffers from uneven heat.
At Dalton Plumbing, Heating, Cooling, Electric and Fireplaces, Inc., your comfort is our promise! To set up an appointment, give us a call at the number above, email customerservice@daltonphc.com or schedule an appointment online.