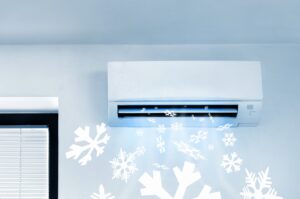 We talk a lot about ductless HVAC systems on this blog. In fact, people are just talking about these systems everywhere nowadays and it's important to know why. The honeymoon phase of this new technology being "exciting" and "innovative" has slowly gone away, but their absolute dominance in the field of comfort and efficiency is here to stay.
Ductless heat pumps are powerful mounted systems that can run both air conditioning and heating. They don't require air ducts and they function via air handlers in your home. This is what they are on the surface, but once you dig a bit deeper, they get a lot more enticing if you can believe it!
Just remember that a ductless system isn't for everyone and every budget. They tend to run more expensive than standard central AC or heating systems. Be sure to speak with an expert for your ductless air conditioning in Cedar Rapids, IA.
How Ductless Systems Operate
Ductless heat pumps operate differently from conventional cooling and heating systems. Normal, old-school AC units would cool the air inside of the system and then use a blower fan system to send the cooled air throughout your home and into the different rooms. Not ductless units!
These systems cool the air individually from up to four indoor air handlers that are connected to one outdoor condenser. Each air handler deposits cool air into your home at strategic locations, from hallways to living rooms, so you don't have to rely on vents or air ducts.
Superior Energy Efficiency
Due to the exceptionally efficient nature of having air come directly from air handlers instead of air ducts, you get to save more money each and every month. Your ductless system simply doesn't have to work as hard as a conventional unit, since leaking air through ducts is a common problem that's almost impossible to nip in the bud 100%.
And, these systems are also incredibly high-tech, allowing for even slight advancements in efficient technology, further reducing your bills.
Convenience and Versatility
If you're tired of fighting over the thermostat, then ductless systems solve that problem. Each air handler can be set to a different temperature threshold, allowing you to have complete customized control over the comfort of your home.
And, when one system breaks down for whatever reason, the other units will continue to work while you get the problematic one repaired.
Futuristic Heat Pump Technology
Back in the day you had to choose between using your heating system and your cooling unit. Now, with a ductless heat pump, you get access to heat pump technology which essentially does both.
This is what makes these systems so popular and powerful–they can both provide you with air conditioning and heating from the same units. All you need to do is set the right temperature on the thermostat and switch it between cooling or heating mode and you're all set. And, to make things even better, these systems run on electricity only, which means that investing in solar panels or sustainable energy sources gives you access to practically free or at least cheap energy for your home comfort!
At Dalton Plumbing, Heating, Cooling, Electric and Fireplaces, Inc., your comfort is our promise! To set up an appointment in the Cedar Rapids area, give us a call at the number above, email customerservice@daltonphc.com or schedule an appointment online.