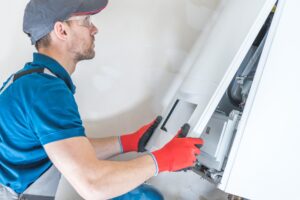 Furnaces can be in all different kinds of shape, from great to bad. Unfortunately, it's nearly impossible to diagnose your unique furnace online, since it takes a full inspection or a maintenance appointment to understand all of the ins and outs of your particular system. What we can do, is provide you with a list of factors that might point you toward one direction over the other.
For instance, if your furnace is shaking, booming, and smelling foul every time it operates, then we're pretty sure you need furnace repair in Des Moines, IA since your system is in very rough shape. However, if your unit is brand-new and works silently and effectively throughout the night to the point where you forget it's there, then your system is probably fine.
This is the art of diagnosing a problem, and we're going to go through some signs you can use to figure out whether your furnace needs help or if it's good to go for another winter.
It's in Perfect Condition
Congratulations! If you're just here to learn more about furnaces or you're a fan of our blog, then we're happy to tell you that your furnace is likely in good shape. This applies to customers who have new furnaces, furnaces that are operating with peak efficiency, and furnaces that don't make very much noise.
Yes, your furnace should still click on and make a gentle "whirring" noise as it operates, but that should be the most of it's noises. Your home should feel comfortable and cozy during those chilly winter or fall days, and you can relax.
Just make sure to schedule maintenance so your system stays this way in the future!
It's Got a Few Hiccups
So, your furnace makes a booming noise or a grinding every once in a while. Or, it's starting to set some alarms off with smoke or foul odors.
It doesn't really matter if you've got one major problem or a bunch of smaller ones, both scenarios require professional repair. Loud or uncomfortable noises usually signify a mechanical problem like two unlubricated parts grinding up against each other, or a dirty ignition that's causing gas to pool up in the combustion chamber.
Either way, call our team to get this sorted out.
It's Really Struggling
What if you have a bunch of major problems with your furnace? Some customers might be experiencing a furnace that shuts down randomly, barely heats their home, or makes so many loud noises that it's genuinely awful to run.
This is an unfortunate reality, and it means that your furnace needs to be repaired at the least. Some furnaces might even require complete replacement if that's the right solution.
It Shut Down Completely
This is never good, and ultimately it's a ticking time bomb. We're not talking literally, unless your furnace is leaking gas (which should be easy to detect due to the smell), but when temperatures get cold it's going to be practically unbearable to spend time in your home.
Temperatures are only getting colder at this point, so we'd urge all of our customers to get their furnaces repaired or replaced if they're barely working or not working at all.
At Dalton Plumbing, Heating, Cooling, Electric and Fireplaces, Inc., your comfort is our promise! To set up an appointment in the Cedar Rapids area, give us a call at the number above, email customerservice@daltonphc.com or schedule an appointment online.