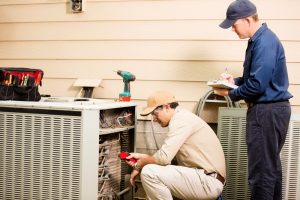 If you're reading this, you may be at a point during your homeownership that you are needing to replace a heating system, or perhaps thinking ahead to a new air conditioning system. Maybe you've already been shopping around, either hitting the stores or researching here online.
That's great! We encourage you to explore your options. But when it comes to actually installing a new heater or cooling system, we not only recommend but we urge you to only trust a professional Waterloo, IA HVAC contractor for the job. This isn't just something we tell people—there're are a couple of very good reasons we say this—namely, to get the correct sizing and efficiency for your home.
Does Size Really Matter?
Yes! When we say size, we aren't actually referring to the physical size of your new air conditioner or furnace, though of course that plays a role since the new system will need to fit in the same space occupied by the old one. Rather, we're talking about the amount of cooling or heating power generated by the new unit. It will need to be balanced against the specific needs of your living space.
You probably can figure out on your own why an underpowered unit is a problem. It will run constantly and drive up your energy bills without every reaching your desired temperatures. Many homeowners, however, are surprised by the fact that overpowered units can be just as detrimental.
Overpowered, or systems that are too large, units will cool or heat your home too quickly and shut off after just a few minutes, to turn on again rapidly. This process is known as "short-cycling" and creates a damaging amount of wear and tear on your system. Your furnace or central air conditioner uses more power and energy to start and stop that it does simply running, and can cost you a lot of unnecessary money to install without the assistance of a professional.
When we size your HVAC system for you, we'll look at more than just the square footage of your home. We'll also look at features such as insulation, sunlight exposure, and how many windows and doors are in the household. All of this data together helps us formulate an idea of what you need.
Next, Your System's Efficiency
The efficiency of an air conditioner is measured with a SEER (Seasonal Energy Efficiency Ratio) rating while a furnace is measured by the AFUE (Annual Fuel Utilization Efficiency) rating. The higher the rating, the higher the efficiency.
However, as we mentioned above, size matters. So buying the most efficient system that matches your budget may not be the best approach, since that might mean getting a system that's not sized correctly for your living space. Fortunately, our team is here to help you make an educated decision, and we'll let you know what your options are when it comes to choosing a new HVAC system for your home!
At Dalton Plumbing, Heating, Cooling, Electric and Fireplaces, Inc., your comfort is our promise! To set up an appointment, give us a call at the number above, email customerservice@daltonphc.com or schedule an appointment online.