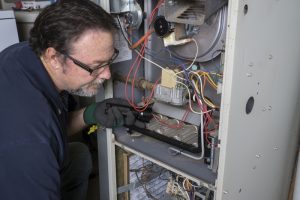 Do you need a heating system replacement in Waterloo, IA? We're going to guess, since you decided to read this blog post, you already know that it requires a professional to do the job. But perhaps you're skeptical—can't you just do the job on your own? After all, there are so many "do it yourself" videos out there nowadays…
Sure, DIY projects are great. They're great for things like repainting furniture, maybe building a planter box, or installing a new DVR—but they simply are not the solution for HVAC installation. There are a number of things that can go wrong, and these factors affect not only your comfort, but your safety too.
Still not convinced? Read on!
Professionals Will Install Your Heater Correctly
You may not know all that is involved with installing a heater. It's not just simply pulling the old one out and putting a new one in. Actually, you may be surprised to find that taking out the old system is typically the most laborious part of the project!
This is because it requires doing so safely, and checking that no connections are damaged in the process so that your new system will perform efficiently. And when we talk about connections, we're talking about ductwork, but also your gas line and electrical wiring. Even gas-powered systems do require some electrical setup.
Your new furnace or heating system must be properly sized for the space it's going in, meaning we make sure that it physically fits and that it's not over or under-powered for your living space—both of which will lead to inefficient operation and high utility costs.
We'll Do the Job Quickly
There are many steps to installation, and some things can take us by surprise—like if we find a fraying gas line or a damaged air duct that needs repair before we can finish. But, these are factors that we know to look for! An amateur or an overenthusiastic "DIYer" may not know to look for this, and you can be stuck with a heating system you're paying way too much for to operate, as a result.
Our team will show up to complete your furnace installation prepared for all variables. We'll have any parts we might need on hand and we'll know what to do if something unexpected does crop up during the process. Ultimately, this means you're without heat for a shorter period of time than you might have been otherwise.
Protect Your Heater, and Your Wallet, with Professional Installation and Replacement
Most HVAC warranties are pretty comprehensive. Almost all, if not all, only cover repairs and manufacturer defects if a trained and licensed professional does the work on the system. This includes installation, repairs, and even maintenance.
Attempting to do the work on your own can void the system warranty, and then you could be financially liable for something that goes wrong with your system, even if it wasn't your fault. Keep your heater working as it should and avoid unnecessary financial loss by trusting a pro for all your heater work!
At Dalton Plumbing, Heating, Cooling, Electric and Fireplaces, Inc., your comfort is our promise! To set up an appointment, give us a call at the number above, email customerservice@daltonphc.com or schedule an appointment online.