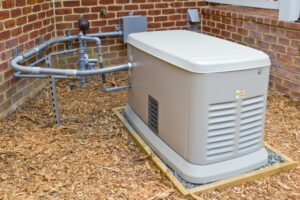 Many homeowners are familiar with portable generators–and at their core, there is nothing wrong with these systems, when used as they should be. Portable generator systems are a great solution for many scenarios. For example, if your family is going on a campout and you want to power up an electric grill, or hey let's say you're "glamping" and you want to hook up a TV… whatever the case, a portable generator is a great system.
However, the thing you need to know about portable generators is while they're good in many cases, the one scenario where a portable system is not a good option is to power your entire home during a widespread power outage. For this, you'll definitely want a whole-house automatic standby generator.
A whole-home system enables you to power up all the important components of your home, from the water heater and refrigerator to the air conditioner, and even your electronic devices and, if you need it, medical equipment. Read on as we uncover some of the leading benefits of having a whole-home generator installed.
Efficiency
Propane-fueled portable generators require a tank full of fuel in order to operate, so you always have to have this on hand in the case of a power outage, and you may even need to buy more depending on how long the outage lasts for.
Whole-house generators hook right up to the municipal natural gas line that runs into your home. This means it's ready for anything, at all times. If the power goes out, you don't need to worry about anything as the generator will automatically start up and power the equipment, appliances, and lighting in your home.
Of course, routine professional maintenance is important to make sure you can rely on your generator,
Convenience
The reason these generators are called "automatic standby generators" is because they automatically turn on when the power goes out, and they are always on standby. Granted, you should have your generator professionally inspected, as we mentioned above, every year. This will help ensure it stays in good shape and is always ready to activate.
But, you don't have to worry about going out and switching anything on in the middle of the night or in the middle of a storm if that's when the power went out. Instead, a minute or two after your power goes out, your whole-house automatic standby generator will step up to deal with the problem.
Improved Safety
When you're running a propane-powered portable generator close to your property, such as in your garage, the fumes that are created could be dangerous for you and your family, not to mention the fire hazard it presents.
A whole-house generator, however, can be easily ventilated to keep fresh air inside your home and keep fumes far away.
For more information, please don't hesitate to give our team a call!
At Dalton Plumbing, Heating, Cooling, Electric and Fireplaces, Inc., your comfort is our promise! To set up an appointment for electrical service in Cedar Falls, IA, give us a call at the number above, email customerservice@daltonphc.com or schedule an appointment online.