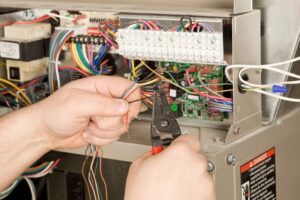 At Dalton, we're more than simply an HVAC company. We have licensed and experienced plumbers, electricians, and fireplace experts on staff as well, to ensure that we are able to serve your whole home. That said, one of the most important jobs we perform for our customers is ensuring their homes are safe as possible, and a big part of this is checking their electrical loads.
This is especially important if you have an older home, which can have outdated wiring and problems that can lead to not only power outages, but safety hazards too. But, how do you know if your home, or rather your electrical system, is at risk of problems? Age alone isn't always the best indicator, particularly if the previous homeowner made electrical upgrades. Read on as we uncover some of the top warning signs that your home might indeed need electrical rewiring, and give us a call if you notice any of these indicators!
Frequently Blown Fuses or Tripped Breakers
First off, if your home is still using a fuse box rather than a modern electrical panel, we're going to tell you right now that it's a good idea to give our team a call for an electrical upgrade.
Fuse boxes haven't been manufactured for years–they've been replaced with much safer (and easier to use) counterparts–the electrical panel.
But let's say you do have an electrical panel, and you find yourself constantly resetting circuit breakers. If this is the case, it's a sign that there is too much electrical load on that panel, and you likely need an upgrade. This is pretty common these days, with homeowners increasing their home's electrical demands with entertainment systems, gaming consoles, and more.
Acrid Burning Smells
If you have an electrical fire occurring, or even wires that are smoldering, you're probably going to detect it with your nose first and foremost. If you do smell this, try to locate where it's coming from–if it seems stronger near an electrical outlet or a light switch, you may very well be detecting electrical wires that are burning or smoldering. If you actually see flames, please call the fire department right away. Otherwise, switch off your circuit breakers and give our electricians a call!
Scorch Marks on Outlet Covers or Light Switches
The "good" news about electrical fires is that they usually burn themselves out pretty quickly. They leave evidence behind, however, which presents itself as scorch marks. If you notice scorch marks on outlet covers or light switches, it's a sign that you've already experienced electrical fires, which can occur due to electrical overloads. It's a definite sign that you need an electrical wiring or electrical panel upgrade. Give us a call!
Other Signs to Watch For
We've only mentioned a few signs above that indicate it's time to call in a professional electrician. Some other signs include dimming or flickering lights, frequently burnt-out lightbulbs, electrical buzzing sounds, and any time you see sparks coming from an outlet or light switch.
At Dalton Plumbing, Heating, Cooling, Electric and Fireplaces, Inc., your comfort is our promise! To set up an appointment in the Cedar Falls area, give us a call at the number above, email customerservice@daltonphc.com or schedule an appointment online for a visit from a professional electrician in Waterloo, IA.