Benefits of a Thermostat Upgrade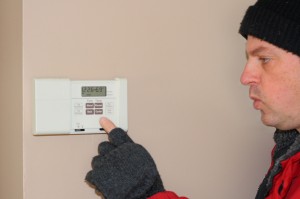 Wi-Fi thermostats are quite popular and easy to use. They can control your home or business temperatures from anywhere. This product can make your life easy and uncomplicated. Initially, there is additional costs to get it going but the money you save on energy will more than pay for that initial cost.
Wi-Fi Thermostats can be Controlled Anywhere
What makes this product so useful is that it can literally be controlled anywhere in the world. For example, if you want your home to be warm and inviting before you get home from a cold and windy day outside, simply set the setting for your home from your office or other location and your home will welcome you with warm and comfortable temperatures. It is important to note that you can use your cellphone, tablet or laptop to control the settings of your wi-fi thermostat.
Improves Efficiency and are Easy to Use
Keep in mind, a wi-fi thermostat also gives you updates and alerts about the maintenance of your thermostat. For instance, if the air filter needs to be changed, it will tell you so. The wi-fi thermostat makes your heating and cooling systems work more efficiently and productively.
Wi-Fi Systems are Precise, Energy Efficient and Look Great!
It's a known fact that a wi-fi system is more precise. The variations and swing are much less compared to regular thermostats. You will also enjoy the savings that come with wi-fi thermostats. It is definitely user friendly. Most people are able to save 20 percent more than with a traditional thermostat. Most importantly, wi-fi thermostats have a unique, contemporary and trendy look, which adds to the beauty of your home. Some may not know it but you can change its display so that it matches the interior of your home.
Alerts also come with the Wi-Fi Thermostat
Most importantly, you can receive alerts to your email or smart phone concerning the variations of your home's temperatures. For example, if you home is getting too hot or too cold, your applications on the Wi-Fi can easily take care of that.
To conclude, Wi-Fi thermostats are loaded with benefits! Talk with your heating and cooling contractor or check out your local hardware store!
Is the varying temperature in your Cedar Falls home making you consider a thermostat installation? Call Dalton Plumbing, Heating, & Cooling Inc.  today at (319) 266-3513 for top quality installation services.