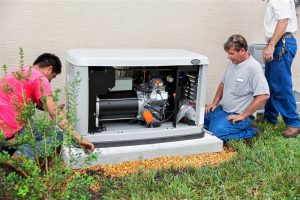 Temperatures have only just begun to warm up, but as a diligent homeowners, you've probably already begun thinking about your air conditioner—getting it serviced if need be, or upgrading to a new, more efficient system. This is a very important part of summer preparation, but certainly not the only home system you should be thinking about.
Coping with power outages is a very real threat in our area. They may not be frequent, but when long term blackouts do occur, you need to have some way to keep your HVAC system running as well as other important home components. This is where Cedar Falls, IA generator installation comes in.
About Whole Home Generator Systems
A whole house generator, in comparison to a smaller generator that you are likely more familiar with, is a larger system that we install outside the home and permanently wire into your home's electrical system. Additionally, unlike a portable system, a whole house generator doesn't rely on a gas tank to provide power. Rather, it has its own natural gas line running to it, ensuring the system always has the ability to provide power available to it.
Among the most popular types of whole house generators are automatic standby systems. They monitor the amount of power running through your home's power system at all times. When the power goes out, the generator activates automatically and starts to supply power to the system. When the power comes back on again, the generator shuts itself off.
A Look at the Benefits of Whole Home Generators
Automatic power generation is a huge advantage of a whole house generator, but not the only benefit! They can provide more than enough power to keep your entire house running, while portable generators are smaller and manual. Portable systems are find for keeping a few lights on and other minor necessities.
A whole house generator, though, is much more useful if you have higher power requirements, or if you have certain equipment (such as medical devices) that must be powered up at all times. With a whole house generator installation, you can have the peace of mind that your power requirements will be met, even in the middle of a large power outage.
Trust a Pro for Your Whole House Generator Installation
It's not a good idea to attempt a generator installation on your own, whether it's a portable system or the whole house type. Although that being said, the danger is higher should you try to install a whole house system by yourself.
This is because a whole house system requires its own natural gas supply and you'll likely need to have a gas line installed. Working with natural gas can be very dangerous in the wrong hands.
Additionally, the generator itself is very large and heavy, which means you'll need multiple people, with the right training and expertise, to install it. If you choose to invest in a whole house generator installation, it's better to rely on a professional than not.
At Dalton Plumbing, Heating, Cooling, Electric and Fireplaces, Inc., your comfort is our promise! To set up an appointment, give us a call at the number above, email customerservice@daltonphc.com or schedule an appointment online.