Heating Services: Why Is It Important?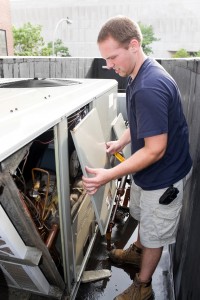 Heating services are one of the most important things you can work on within your home. As with any big investment, the more annual maintenance and repairs you can perform on your investment, the less it will cost in time and money in the long run.
Heating and cooling components can be ten to fifteen thousands dollars to completely repair. By conducting annual inspections and maintenance, as a home owner you can spend ten dollar instead of ten thousand when you conduct annual maintenance.
When Do I Need Heating Maintenance?
Many people believe that the only time a home or any other building needs its heating and cooling services inspected is when there are problems. However, this is a false belief in that the time to do preventative maintenance is before problems arise.
Quality HVAC companies can spot problems long before they occur and then take corrective action to prevent a problem from going.
Many HVAC companies will recommend quarterly or annual inspections for free or for a low cost, and if they find any cracks or any other issues they can repair them as they go, rather than letting them build up and cost the home owner much more money in the long run.
Factors of Importance
Heater maintenance is important because your heating and cooling unit is a machine. Any machine, such as a car, requires regular maintenance and repairs to keep it flowing smoothly. For some reason, many people think that once they buy a house, they no longer need to work on the building at all. However, this will end up costing more money in the long run.
Whenever you can find a problem and quickly solve it, you can save more money and time than if you had not completed regular maintenance. Overall, regular maintenance is important because it catches problems early, save money and time, and can prevent further damage in your heating unit.
What are the Signs That I Need Heating Maintenance
There are many signs of heating units needing maintenance. One of the biggest tell tale signs is weird noises whenever the heating and cooling unit is turned off and on.
Noises are a sign of corrosion being built up in the heating unit, and whenever this happens this is also a sign of possible further damage.
Another sign is pretty simple, your house or building is no longer heating as well or as fast as it was before. Any time this happens, it is apparent that the time for an inspection is near, or much more damage will be done in the future.
Heating services are important for your Cedar Falls home. Call Dalton Plumbing, Heating, & Cooling Inc. today at (319) 266-3513, and see what our experts can do to put the heat back in your home.