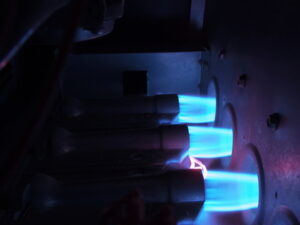 This is a question you might not have ever asked yourself. Perhaps you weren't even aware this was an option. However, if you have an aging gas furnace, it's something for you to consider as you explore your options for replacement.
Note, that we are not talking about an electric furnace. While there are certainly benefits to having an electric furnace installed, and we're happy to answer any questions you might have about such installation, what we are discussing here is an electric ignition system within your gas furnace.
Pilot Lights: No Longer the Best Option
If you've had a gas furnace in your home for many years, then you know that it has what's called a pilot light—this is the gas-powered flame that's constantly burning and ignites the jets once there is a demand for heat from your thermostat.
This continuous operation means that it requires a consistent supply of natural gas so that it will keep burning all winter long. While this isn't a huge amount of natural gas that's used, it does raise your utility bills and lowers the overall energy efficiency of your furnace.
There's also safety to consider. No, gas furnaces are not inherently dangerous. There are safety features that signal the furnace to shut down or for the pilot light to go out. However, as with anything that uses natural gas, there is always a minimal risk involved.
This leads us to what is proving to be a better option for many homes: electronic ignitions.
Why Consider an Electronic Ignition?
Most modern furnaces you'll find on the market today are already equipped with an electronic ignition. This may make you wonder about efficiency—after all, electricity is a more expensive fuel source than natural gas, right? Yes, but electronic ignition systems actually require very little power to operate.
There are actually two different kinds of electronic ignitions, and either one only has to turn on and use your power for a short time before shutting off. This is one of the reasons that newer furnace systems have higher efficiency ratings that furnaces of the past. While furnaces of the past were typically rated from the 70s-80s in AFUE ratings (Annual Fuel Utilization Efficiency) newer furnaces can be rated as high as 98% AFUE. So, by default, a furnace with electronic ignition is going to cost you less to operate.
Now, let's take a look at the two different kinds of electronic ignitions we mentioned:
Hot Surface: This can be compared to an incandescent lightbulb in how it works—electrical current flows through filaments, which increases heat. It's hot enough that it lights up the furnace burners.
Intermittent Pilot Light: This ignition system still uses a pilot light, however, an electric spark is used to ignite it, so that it does not have to run continuously day after day, hour after hour.
If you're wondering about your furnace options, please don't hesitate to give our team a call!
At Dalton Plumbing, Heating, Cooling, Electric and Fireplaces, Inc., your comfort is our promise! Whether you're ready to make a furnace upgrade or simply need quality Cedar Rapids, IA furnace repair for your existing system, give us a call at the number above, email customerservice@daltonphc.com or schedule an appointment online.