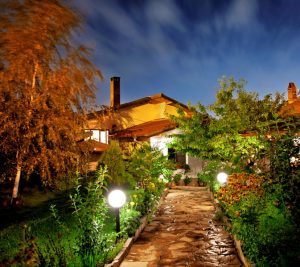 When you think about the landscaping of your home, what comes to mind? If you're like the average homeowner, the types of flowers and trees you'll plant, and whether you'll go with grass, or some type of wood chip or rock ground foundation is probably also a consideration.
But, what about your lighting?
Outdoor lighting is not something many people think about too much when moving into a new home or planning to redo their landscaping in an existing home, but it should be! There are a number of ways in which outdoor lighting, professionally installed by a Waterloo, IA electrician, can improve your home's landscaping, making it both visually appealing and functional.
Enhance Your Home's Appearance
This is the main reason most people decide to add outdoor lighting to their home—to make it more visible and aesthetically pleasing. When positioned the right way, landscape lighting can make certain architectural features stand out.
Lights pointed toward your favorite plants make the most of your landscaping at any time of night or day, and outdoor lights can even add a sense of drama to your landscaping.
Functionality
Landscape lights increase the functionality of your outdoor space. With the right lighting, you can use your front or backyard long after the sun goes down. This makes a great setting for entertaining, having parties, or even just enjoying a nice summer night on your deck with your family.
You may even consider attaching lights to umbrellas in your yard for an added romantic ambience.
Home Security
This is actually a tremendous benefit of outdoor lighting. When you have lights illuminating your home's exterior, it becomes less of a target for crimes such as burglary or vandalism. The reasoning behind this is that a burglar won't be able to approach your home as stealthily, as they have fewer hiding spots with a well-lit exterior.
Illuminating points such as your doors and windows with lights makes it hard for an intruder to get in unnoticed. When deciding on where the place landscape lighting for security, consider the darkest areas of your yard, and the places near the home where you think an intruder could enter.
Always Hire a Professional
Remember, whether you're having indoor lighting installed or outdoor lighting, that it's important to consult with a professional electrician. This is especially true if you require any rewiring or additional electrical work to accommodate for the new light fixtures.
You'll also want to be aware of any signs that your current electrical panel can't handle any further electrical additions. If you've been noticing flickering lights, buzzing sounds behind the walls, switches that are hot to the touch in and around your home, or tripped circuit breakers, then you may want to have your electrical system inspected before moving forward with your outdoor lighting installation.
At Dalton Plumbing, Heating, Cooling, Electric and Fireplaces, Inc., your comfort is our promise!
To set up an appointment, give us a call at the number above, email customerservice@daltonphc.com or schedule an appointment online.