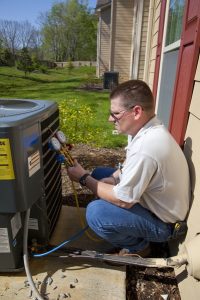 It's easy to boast about what makes a company unique, but it's more important to actually live up to those qualities.
When you are on the lookout for a Waterloo, IA HVAC contractor to install a new system, repair your existing one, or even help you with your indoor air quality issues, you need a company and professional you can rely on. But what qualities should you be on the lookout for?
A Physical Location
A lot can be said for entrepreneurs who start their business out of their garage, but that's not necessarily the type of HVAC contractor you want for your home. Generally speaking, if a company is stable, it has a base of operation. The lack of a physical location might indicate that something shady is going on—perhaps this person isn't actually qualified or licensed to work in your area.
Fortunately, it's easier now more than ever to use a search engine to discover a business and where they're located. It's important that you hire an HVAC company that is legitimate.
Proper Licensing
Since HVAC installation and service is complex, and can even be dangerous, technicians must have the proper knowledge and licensing to do the job. It's also imperative that the business that employees these technicians be registered with the state where they are based, and keep their licensing paperwork up-to-date.
Before hiring an HVAC contractor, be sure to check on the status of their licenses—this will tell you whether they're in good standing with your community and complete their professional duties in a timely manner.
Professionalism
Okay, so an HVAC technician isn't going to show up to your home wearing a suit and tie—that would be impractical. However, they will be working around your home, so you want a technician who takes pride in their appearance and is going to act respectfully. This way you'll know that they will leave your house as they found it, and properly clean up after themselves.
Prompt Replies
Have you ever had to deal with a company who let their phones keep ringing, put you on hold for over an hour, or didn't return voicemails or emails? This is no good—if you don't hear back from a company you hope to get a quote for, first make sure that you have the contact information correct, but don't wait around too long for them to respond. HVAC repair and service needs are often timely requests and you need a company that will respond as such.
Comprehensive Knowledge
When you're hiring someone to work in your home, you want to know that they have the know-how to get the job done right the first time. Our employees are trained to the highest standards, and have years of expertise. Our comprehensive training allows us to handle any type of HVAC need that comes our way, and more.
At Dalton Plumbing, Heating, Cooling, Electric and Fireplaces, Inc., your comfort is our promise! To set up an appointment, give us a call at the number above, email customerservice@daltonphc.com or schedule an appointment online.