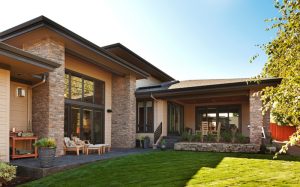 Is your home as safe and secure as possible? Sure, you keep the front door locked, you have a basic security system, and maybe you even have a dog whose bark you hope will scare burglars away quick enough that they discover the dog really just wants to lick them to death.
These are all great first steps (though we really don't recommend relying on the family dog), however to truly protect your home, it's vital that you have an effective whole-home security system professionally installed by trained and experienced Cedar Falls, IA electricians. This will give you protection as well as a peace of mind whether you are away from home or your family is soundly sleeping.
In addition to this installation, there are a number of things you can do around the house to limit your risks of being burglarized even more. We've shared some of the biggest home security mistakes below, to help provide some guidance on how to do just that.
Mistake #1: Leaving a Ladder Accessible
Have you ever just left a ladder "hiding" behind a shed or leaning against your house when you've finished or are in the middle of a project? On its own, this is a fairly benign action. But think about it—area all your upstairs windows locked? How easy is the ladder to get to, really? We recommend not only ensuring all your home's windows are effectively locked, but also locking away your ladder in a garage or storage shed.
Mistake #2: Leaving Boxes of Expensive Items on Your Curb or Porch
Whether is a holiday, birthday, or just another Tuesday, at some point you are going to purchase or be gifted an expensive item, whether it be a flat screen TV, or intricate piece of furniture. When you've unpacked the item, it's a far better idea to break down the packaging and dispose of it all rather than leaving the empty box out in plain sight, so that burglars know what to except when they enter your property.
Mistake #3: Letting Your Mail Pile Up
This is a clear giveaway that you aren't home, and if you have a burglar casing your house it is a huge risk. Before you leave on a business trip or vacation, be sure to call the post office and ask them to hold your mail during the time you'll be away.
Mistake #4: Not Controlling Your Landscaping
The more overgrown your bushes are, the easier it is for a burglar to hide, particularly if they're near a window. Couple this with mistake #4b, not having proper outdoor lighting, and you've got yourself a risky situation. Be sure that your home is appropriately lit, and that your landscaping doesn't provide any great hiding places for burglars.
At Dalton Plumbing, Heating, Cooling, Electric and Fireplaces, Inc., your comfort is our promise! To set up an appointment, give us a call at the number above, email customerservice@daltonphc.com or schedule an appointment online.