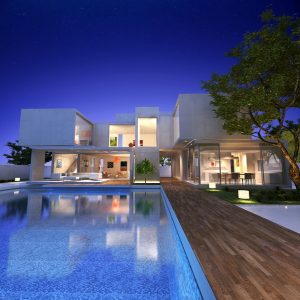 Have you ever been away from home for an extended period of time, or even just at work for the day, and thought to yourself, "I'd really like to check in on my house"? We've all been there. At some time or another, you've likely wondered if you left the lights on unintentionally, kept your HVAC system going for too long, or even forgot to lock your front door.
The good news is, there is a way to have access to your home at all times, no matter how far away from it you are. With a home automation system, professionally installed by an experienced Waterloo, IA electrician, you can check in on whatever is important to you in your home, from work or across the country. Choosing a pro for the job will ensure a job done right, and will help you reap the full benefits of home automation!
Live in the Home of the Future
With "smart home" technology, you can enjoy the latest and greatest in home improvements. The future of home comfort is here, in the form of home automation. These systems allow you to control many of your most important appliances and electronics all form one place, and can include anything from your security system and lighting to your TV and HVAC system. Some of the benefits of using such a system include the ability to:
Access most of your home's systems from an application on your smart phone.
Check and control your HVAC system's thermostat from wherever you are.
Turn lights on and off from a remote device, or check to see if you've accidentally left them on.
Find out if you've accidentally left the garage door open or front door unlocked.
Unlock your door to let a housekeeper or family member who forgot their key in.
Use a locking keypad to see who enters your home and when.
Check the exterior and interior of your home with a security system.
And more!
Home Automation Helps You Save on HVAC Costs
Your heating and cooling systems account for about half of all your energy use within your home. And a common way that many homeowners waste energy is by leaving their air conditioner or heater on throughout the day, forgetting to turn it off when they leave for work or go on vacation. With a smart thermostat, however, hooked up to your home automation system, you'd never have to worry about this occurring.
Home automation lets you check on your HVAC systems using a remove thermostat connected to Wi-Fi, and you can even track your energy usage with data stored within your smart phone application. Additionally, utilizing a smart thermostat allows your thermostat to "learn" your habits to automatically set the most efficient temperatures for your needs.
But remember, you can only get the most out of your smart thermostat, and out of your home automation system, by trusting your services to the pros. We will ensure that your home automation system is set up as it should be so that you can rely on it for the years to come.
At Dalton Plumbing, Heating, Cooling, Electric and Fireplaces, Inc., your comfort is our promise! To set up an appointment, give us a call at the number above, email customerservice@daltonphc.com or schedule an appointment online.