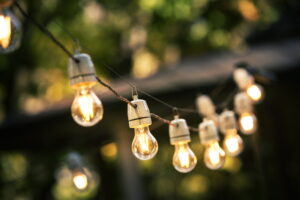 Today's homes have increasingly more electrical demands than those of the past. With more devices, appliances, and smart home components coming onto the market, homeowners are finding themselves purchasing extension cords and power strips to accommodate. The problem is, this isn't necessarily safe, nor is it very healthy for an electrical system, which can become overwhelmed.
An overwhelmed electrical system means an increased risk for electrical fires, damaging power surges, failed appliances, and even electrocution. This is something to think about, especially as we progress into this time of the year. What are we referring to? The holiday season, which is really just around the corner. The holidays will look different this year, but if lighting up your home with decorations is in your plan, then you may need an electrical panel upgrade! Read on to learn the signs that this is the case.
Sign #1: You Still Have a Fuse Box
It's pretty rare for home's to still have a fuse box, since they were phased out of home construction by 1960. If you have an older property though, it is possible you're still using a fuse box. This is different from an electrical panel in that instead of flipping a circuit breaker when it trips, you have to replace an entire fuse when it burns out.
The problem with this is, it's not necessarily safe. This is why fuse boxes have been phased out! With the advanced electrical technology and electronics we're plugging into these days, it's necessary to have an updated electrical panel.
Sign #2: Your Home Is 30+ Years Old
Even if you don't have a fuse box, it's still possible that your electrical panel is too old to be considered totally functional or even totally safe. To be specific here, we're thinking about your home's electrical capacity.
Electrical panels that are over 30-years-old can manage about 60-100 amps, while newer panels can handle up to 200. This is much more suited to the rise in electrical demand that households throughout are area are accumulating, due to things like computers, rechargeable mobile devices, charging stations, and more.
Are you aware of the level of amps your panel can manage? There's a guide on the inside of the door you can look at, but you'll want to get in touch with a professional electrician if you haven't had an inspection in a while and/or are unsure of how many amps are available.
Sign #3: Your Circuit Breakers Are Constantly Tripping
Chances are, you don't want to make routine visits to your electrical panel each week to reset tripped circuit breakers right? If this is part of your daily routine, you need to give us a call. Even if it's just one circuit breaker that is giving you problems, it's worth having the situation looked at to ensure that you aren't unintentionally risking your home safety or risking your appliances.
At Dalton Plumbing, Heating, Cooling, Electric and Fireplaces, Inc., your comfort is our promise! To set up an appointment with one of our reliable Cedar Falls, IA electricians, give us a call at the number above, email customerservice@daltonphc.com or schedule an appointment online.