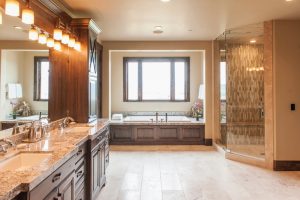 If you're reading this post, chances are that your bathroom doesn't look the way you want it to. Maybe it's not as functional as it could be, or you're having trouble getting around it with ease.
Depending on your particular circumstances, a bathroom remodel can definitely be the answer. After all, bathrooms are the most used rooms in the home next to kitchens, and remodeling can give you a whole new space.
For a job of this caliber, it pays to work closely with a plumbing contractor you can trust. Preparation and planning make a world of difference in the results you'll achieve with your bathroom remodel. In fact, there might even be factors you haven't considered yet, if you were thinking about tackling this bathroom remodel on your own. These considerations include:
Practicality Before Aesthetics
The main reason many homeowners plan a remodel of any kind in their home is because they don't like something about how the space currently looks. Remodeling gives you a great opportunity to change the aesthetics of a room. But, you shouldn't let the desire to have a great looking bathroom overcome the obviously practical needs of the space. It's important than when doing a bathroom remodel, you account for your daily needs. This is something that our trained professionals can help you with.
Square Footage Only Goes So Far
An experienced and trained plumber will be able to work wonders when making effective use of your bathroom space, enabling you to fit the various appliances and fixtures you need and want into a typically crowded space. But every bathroom has its limits. Working with a qualified plumber, however, will help you determine how many of your goals you can realistically reach. We will help you prioritize a list of features you want in your bathroom so you can push the things you really need for the space, rather than just the things that are "nice to have."
Steps Can Be Missed!
If you choose to skip professional services and instead opt to do a bathroom remodel on your own, there is a number of things that can go awry. We aren't just saying this to scare you into hiring a professional, but to encourage you to at least consult with a trained plumber before starting your bathroom remodel. Some common missed steps and mistakes we've seen include:
Incorrect Measurements for Toilet Placement: A toilet measurement called the rough-in determines the distance between the toilet's bolt caps on the floor to the finished wall. The standard in modern U.S. homes is 12-inches, but this can vary depending on how old your home is.
Not Properly Venting Drains: Ventilation is vital. Your sink trap can get sucked dry, and as a result it won't function as a barrier between your bathroom and sewer system. You can imagine what a mess you'd have with that.
Not Sloping the Shower Floor: If the masonry in your shower floor isn't properly slanted, your water won't be able to drain properly, and you'll have perpetual standing water in the shower, leading to mold and mildew growth.
At Dalton Plumbing, Heating, Cooling, Electric and Fireplaces, Inc., your comfort is our promise! To set up an appointment, give us a call at the number above, email customerservice@daltonphc.com or schedule an appointment online.