New models of fireplaces are easy to install. Most will slide into your existing fireplace, leaving you with no excuse to not update your outdated, dirty fireplace into a new, cozy and romantic one.
If you're still unconvinced, here are a few more benefits on owning a fireplace.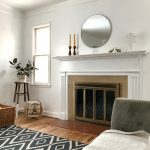 1. A Cozy Ambience
This one's an easy benefit. Who doesn't like to get cozy? A fireplace doesn't just provide a physical warmth. It provides an emotional one, too. Similarly to candlelight setting a romantic mood, we invite you to lounge in front of your fireplace without getting a warm, tingly feeling and relaxing with your family.
2. Cut Energy Costs
The cost to heat your home lowers with the additional help from a fireplace. Particularly when there is a large drop in temperature, a fireplace will come in handy at keeping your heating costs low. In fact, electric fireplaces that don't require a chimney are extremely efficient. That means they provide great heat at an affordable price.
For gas and wood fireplaces, be sure your chimney is properly lined to keep the heat inside.
3. Emergency Protection
Power outages during a winter storm can leave your family shivering all night long. If your power goes out, a wood-burning fireplace is a great alternative source of heat. Additionally, you can even double the use of your fireplace as a means to cook your food.
4. Increase Home Value
Often appearing on a home buyer's most wanted list, a fireplace to your home absolutely increases the home's value. In fact, according to the National Association of Realtors, the majority of home buyers would pay on average an extra $1000 – $5,000 for a home with a fireplace over homes without.  '
Are you ready to purchase your new fireplace? Stop by Dalton's fireplace showroom and view the many models available. We can help you determine the best model for your home's style and fuel needs.