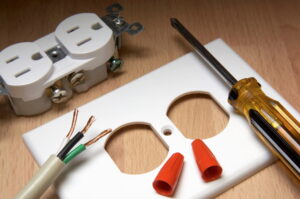 If you're reading this blog, you're likely one of our many customers who have discovered knob and tube wiring in their homes. Not only is this ancient technology something that is too old to reliably use, but it's also a safety hazard. Even insurance companies can hike up their premiums when they discover you've got knob and tube wiring in your old home.
So, what is it about this kind of wiring that makes people so nervous? And why is it such a big deal to get it replaced? Well, in order to understand the answers to these questions, we've got to do a deep dive on what knob and tube wiring is and how it's still in homes across the country. And then, when you feel confident that you need the problem addressed, you can call our team for an electrician in Des Moines, IA.
Only a licensed electrician should handle the removal and replacement of knob and tube wiring when it's found in homes.
The History of Knob and Tube Wiring
Back at the turn of the 20th century, electricity was all the rage. It was common for homeowners all across America to get their first electrical wires installed, and these wires were known as knob and tube wires. As the name implies, they were literally wires strung up on knobs and encased by tubes, usually placed in attics, basements, ceilings, walls, and areas that were out of the way.
While these wires did a phenomenal job at the time electrifying homes and bringing them into the 20th century, they got old fast and became dangerous. Back then, it was common to only have a couple electrical devices like lights and one appliance to run with electricity, and the rest would run on gas or be hand-powered. Now, practically every appliance and device we use relies on electricity.
This electrical dependence is what made knob and tube wiring get old fast. Due to many fire hazards from this wiring material, it was promptly removed from homes in the second half of the 20th century.
The Problems of Knob and Tube Wiring
So, what's the big problem with knob and tube wiring? We still use similar wires to run our electrical devices and appliances today, so why does it matter so much if you've got this kind of wiring in your home?
Well, knob and tube wires are exposed, meaning they can shock anything that comes into contact with them. This can lead to the death of critters, fires, and other issues being more common. Modern wires are insulated with wax or rubber, meaning you can touch and move them without being electrocuted.
Also, old knob and tube wires are at least a century old at this point, meaning they've likely corroded and degraded over time. This makes them less reliable and even more likely to run into safety problems.
What to Do Now
Well, you're going to need to contact an electrician to get this settled. Trust us, the price of knob and tube wiring removal is worth it, since your home is only going to get more dependant on electrical devices over time.
And, to make things even more time-sensitive, a home insurance provider will raise your premiums when they find out your home has knob and tube wiring, so you might want to make this change now to protect your budget in the future.
At Dalton Plumbing, Heating, Cooling, Electric and Fireplaces, Inc., your comfort is our promise! To set up an appointment in the Cedar Rapids area, give us a call at the number above, email customerservice@daltonphc.com or schedule an appointment online.