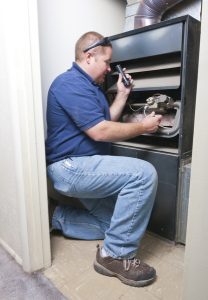 Heating season is here! This means you're going to be using your furnace or heat pump on a pretty regular basis soon enough. There are many things you can to get your home properly prepared for the cooler temperatures, including having the number of a reputable furnace repair company on hand in case you run into any problems.
What if we told you there is a way you can avoid being surprised by repair needs, though? Well there is—by ensuring your heater gets proper maintenance. Keep reading to learn more about the importance of heating maintenance in preserving the health of your system, and why it's important that you have it done sooner rather than later.
The Importance of Heating Maintenance
Most of the problems that can negatively impact your heater are the type of issues you won't even notice until they've already caused damage. This is the main reason you don't want to wait for symptoms of a heating problem to show up to call for service. The best way to fix a heating problem is to prevent it from ever occurring in the first place, if at all possible—and with professional maintenance, it is.
Professional preventive maintenance gives our HVAC technicians the chance to closely examine your heating system and isolate any issues that may be developing. These issues can then be repaired before they have the opportunity to grow into large, operational hurdles.
Maintenance can lessen the odds of a serious problem damaging your heater by up to 90%, and increase the system's energy efficiency by up to 40%. Doing this on a consistent basis can save you thousands of dollars in repair costs over the life of your system. In order to get the most out of your preventive heating maintenance though, you need to be consistent about scheduling it each year.
Fall: The Best Time for Heating Maintenance
The time of year you schedule professional preventive maintenance can make a difference as to how effective that maintenance is. For this reason, we commonly recommend Fall as the best time to schedule heating maintenance. This ensures that your furnace or heat pump is in the best shape possible before it's being used on an hourly basis to keep your home warm.
Additionally, it enables you to take immediate advantage of the boost in system efficiency that you get from the maintenance appointment.
Of course, it's better to schedule heating maintenance later in the season or even post-season than not to have any maintenance done at all. So, if you end up reading this and it's already winter, call us for maintenance if you haven't yet! We still recommend it. It's more important that you be consistent about your heating maintenance appointments than it is the time of year you have it done.
At Dalton Plumbing, Heating, Cooling, Electric and Fireplaces, Inc., your comfort is our promise! To set up an appointment, give us a call at the number above, email customerservice@daltonphc.com or schedule an appointment online.