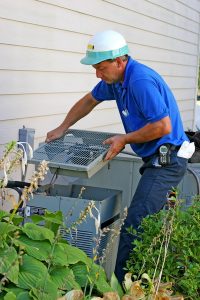 Summer is going to be here sooner than we know it! We understand you don't want to think about that quite yet. After all, it means your energy bills are going to spike again as they did during the winter. But what if we told you that you might be spending more than necessary to keep your house cool each summer?
Even if your air conditioner is running "just fine," you can reduce your monthly bills. How? By scheduling a professional air conditioning tune-up, that's how! Keep reading as we go through the hows and whys of air conditioning maintenance. If you're still not convinced that air conditioning maintenance can save you money after that, contact our team and ask about our Complete Home Comfort Membership Plan. We'll share more details below!
Maintenance Improves System Efficiency
Routine air conditioning maintenance enables your cooling system to operate more efficiently and produce cooled air using less energy. This is one reason that the evaporator coil and other internal components need to be thoroughly cleaned (which they will be during your maintenance session)—to remove accumulated dirt and other debris.
On this note, there is one small maintenance task that you can, and should, tackle on your own. That is changing your air filter. Many homeowners assume that the air filter is in place to protect their indoor air quality. But it actually keeps the interior components of the air conditioner from being pummeled with dirt, dust, and other debris. Your air filter should be changed every 1-3 months depending on what type of filter it is—more instructions can be found on the filter packaging, but please feel free to ask us for more details!
Maintenance Leads to Fewer Costly Repairs
Most problems with cooling systems begin well before the homeowner notices them. For instance, it may not seem like a huge issue if your air conditioner seems to be dripping a little water. However, this can be a sign that your refrigerant is too low. Or, your cooling system may make strange noises, which can indicate a component is loose or your motor bearings are wearing down.
All these problems and more can be caught by a maintenance tune-up long before they start impacting the performance of your system.
Maintenance Helps Your AC Last Longer
When you deal with efficiency and potential repair issues, it helps your air conditioner perform better. When your air conditioner performs better, it can last longer! Of course, no cooling system will last forever—the average lifespan of a well-cared-for air conditioner is about 12-15 years. But without maintenance, you can cut that by as much as half. This means you aren't paying for a whole brand new system years before you should need to.
The Complete Home Comfort Membership Plan
This is our exclusive maintenance agreement program that affords our customers a number of additional monetary benefits outside what we mentioned above. For example, as a member, you'll receive 24-hour emergency service, a loyalty discount on services and repairs, a 3-year warranty on parts & labor, and other exclusive member-only discounts.
At Dalton Plumbing, Heating, Cooling, Electric and Fireplaces, Inc., your comfort is our promise! To set up an appointment, give us a call at the number above, email customerservice@daltonphc.com or schedule an appointment online.