We aren't excited to say goodbye to warm weather, but September is here!  That means it's time to get your home ready for winter, while the weather still permits. You don't have to do it all alone; we're here to help! Below you'll find our list of must-dos this fall, and all the items that we can help you check off your list.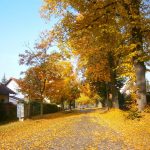 1. Check for leaky faucets
Get a jump start on preventing freezing pipes by inspecting for leaks in the fall. You'll save a large sum of money by repairing leaks now than you would have to shell out if you have a burst pipe in January.
Checking for leaks is something the Dalton team can help you with. In fact, a plumbing inspection is included with our Complete Home Comfort Membership.
2. Inspect your window seals
A drafty window or door can cause stress on your heating system and make all the difference between a warm and cozy home and a chilly one. Make sure there is a tight seal around doors and windows. If you notice some cracks, call the company who installed them to see if they are still under warranty. If not, consider caulking the seals or having a professional window company do it for you.